Alycia Bauch, Senior Board Member & Stage Manager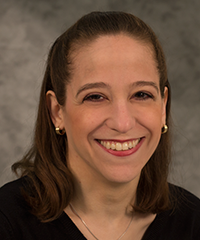 Alycia Bauch of Bordentown began her long and varied theatrical career at the age of three and has filled many roles – both on stage and backstage – ever since.

Alycia's recent acting roles at the Kelsey include Ruth in The Pirates of Penzance, All of the females (8 characters) in Jeffrey, Eliza Doolittle inPygmalion, and Stage Manager/God (a character) inThe Most Fabulous Story Ever Told.
Behind the scenes, Alycia was the Prop Mistress for Laughter on the 23rd Floor and for Elton John and Tim Rice's Aida both of which earned her NJACT Perry Awards. She directed and provided props and set dressing for the critically acclaimed productions of A Few Good Men and Brighton Beach Memoirs. Her stage management credits include Dirty Rotten Scoundrels and Man of LaMancha.

Alycia holds a Bachelor of Arts degree in Theater Arts from Rutgers College and a Master of Science degree in Speech and Language Pathology from Columbia University. As an SLP, she works with adolescents and adults with developmental disabilities at a residential and day-program facility in Philadelphia.