Judi Parrish, Senior Board Member & Sound and Lighting Design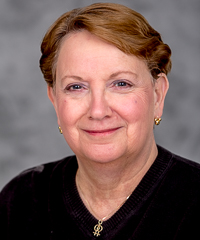 Judi has more than 45 years in community theatre, with credits as a director, musical director, producer, stage manager, set designer, lighting designer, sound designer and actress. She has a total of 10 Perry nominations, including nominations for set design, sound design, lighting design, directing and acting. She is a Perry award winner for her role as the Superintendent in the MPO production of The Drowsy Chaperone.
Judi keeps very busy with projects at Kelsey Theatre and other theaters in the central New Jersey area. She most recently assisted with the set construction and scenic painting of the Pennington Players' production of Into the Woods. She is also the Vice President for Production with the Pennington Players and has directed several of their productions, including Master Class, The Miracle Worker and Steel Magnolias. She has also directed Agnes of God, The Musical of Musicals, and A Streetcar Named Desire at Villagers Theatre.
Her next endeavor will be as the sound designer for the MPO production of Lend Me A Tenor and as the producer and sound designer for the Pennington Players' upcoming production of Picasso at the Lapin Agile. Next season, she will be directing The Diary of Anne Frank for the Pennington Players.
Judi holds a Bachelor's Degree in Music Education and worked for the NJ Department of Transportation for more than 30 prior to retiring a couple years ago. She is the resident lighting designer for Kelsey Theatre's Tomato Patch and recently taught vocal solos for Tomato Patch. She is also adjunct faculty at Mercer County Community College, teaching Entertainment Technology, and is on the technical staff of Kelsey Theatre.